Located in South Florida, Surfside is one of the most beautiful and walkable beachfront towns in the entire state. It's a primarily residential community offering easy beach access, peaceful streets, and many recreational activities. Located within walking distance to Bal Harbor luxury shops and restaurants, Surfside has everything you could ever want. With such beautiful surroundings, it's no surprise locals and visitors alike enjoy spending most of their time outdoors.
Visit North Shore Park & Youth Center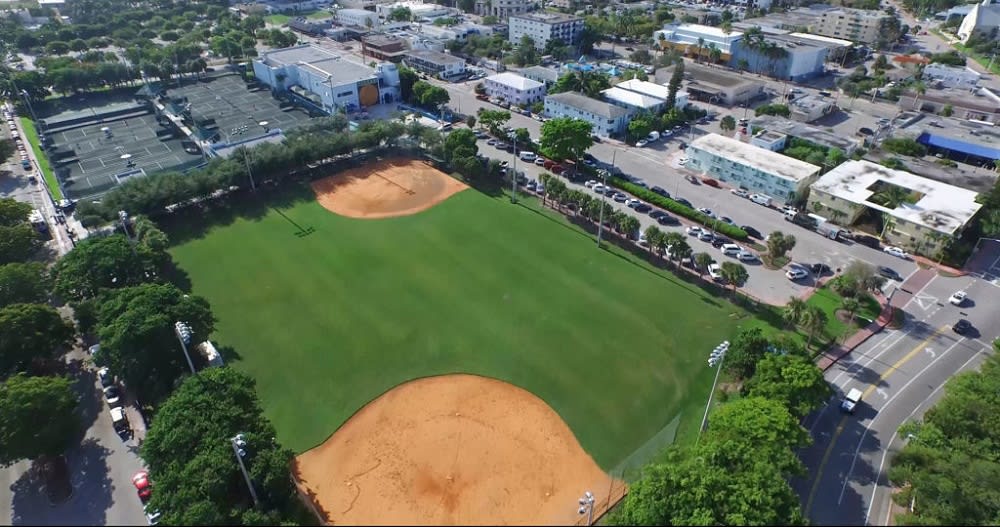 Families adore this
community staple
, which boasts impressive indoor and outdoor facilities. The robust sports center has 12 tennis courts, two baseball fields, and ample grass for running and playing. The Youth Center offers classes and programs for residents of all ages — kids and adults can pick up a sport, try yoga or dance classes, and attend special programs. The summer camps are also extremely popular for children in grades K-5 and tend to fill up quickly!
Stroll along the boardwalk

The Surfside neighborhood is part of the connecting boardwalks through Bal Harbor and Miami Beach and is an ideal place to walk, jog, rollerblade, or bike. Between 88th and 96th Streets, you'll find wide paths, ocean views, and privacy-enhancing dunes. Walk from Surfside to Haulover Inlet, where you'll reach a rocky jetty and see unbeatable beach views. Boardwalk access has never been more serene!
Shop at the Surfside Farmers Market
Why shop at a grocery store when you could take your shopping outdoors?
The Surfside Farmers Market
takes place every Sunday from 9:00 a.m. to 3:00 p.m. and highlights the area's best farmers and vendors. Fill your basket with everything from fresh fruit to crisp vegetables and homemade baked goods. Need a gift for someone? Check out the artisanal coffee, soaps, and other natural products for sale.
Enjoy the water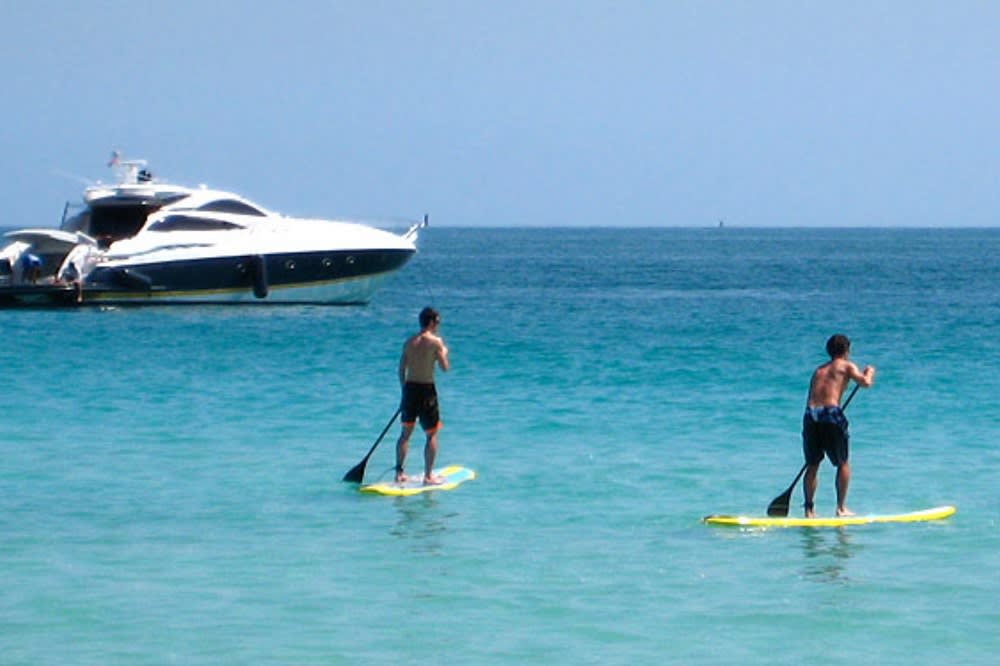 Paddleboarding, kitesurfing, and kayaking are popular activities in Surfside, thanks to the manageable tides of Biscayne Bay. If you own a board or kayak, grab it and head to the beach! If you're new to the sport and need a rental, there's no shortage of shops right along the beach.
Miami Beach Paddleboard
and
Morningside Watersports
rent paddleboards and kayaks and even offer lessons and tours. Join Morningside for their Full Moon Tour or Sunset Kayak Tour — you'll kayak or board through gorgeous sunset colors and explore the waters by the light of moon. The Full Moon Tour ends with a fun BBQ on the beach! Additionally, Surfside residents love
Friday Beach
, a beach picnic destination that brings together the entire community around outdoor fun, delicious food, and cultural experiences.
Those who love a slightly bumpy thrill will love the prime jet skiing opportunities out on the water. You'll see tons of jet skiers with the wind and water in their hair, having the time of their lives, and you'll feel compelled to join in. Contact
Sunny Isles Beach Watersports
or Jet Skis on Demand to inquire about renting equipment. A great option for people traveling with friends and a unique way to appreciate the beauty of Surfside's water, renting a jet ski is the perfect way to enjoy a day along the coast in Surfside.
Bring the kids to the beach for a surfing class! Every weekend, two different options for classes are offered by waterfront restaurants along the beach.
Soul Surf Academy
allows kids to learn to surf in a nurturing environment, simultaneously learning about marine life and basic rescue techniques. Additionally,
Surfing Surfside
helps surfing students of all ages become more comfortable on the water. The kids can even sign up for fun camps that teach not just surfing but also kayaking, SUP boarding, wake boarding, and beach soccer.
Rent a bike

Surfside is a stress-free and fun town to navigate, thanks to the easy-to-rent Deco Bikes scattered around the area. Rent a bike with your smartphone and set out to see the sights! We recommend the waterfront route, which combines sun, turquoise water views, and fresh air. As you bike, notice the mix of residential areas, luxury hotels and condominiums, and the esteemed Surf Club.
Visit Harding Avenue
You don't want to miss shopping and dining opportunities along
Harding Avenue
in Surfside. The premier destination for boutique shops and delicious restaurants, Harding Avenue epitomizes the charm and history for which the town of Surfside is known, and taking a stroll down the avenue is the best way to get a sense of this town. Pop into any of the upscale clothing and accessory shops or grab a bite to eat al fresco. Harding Ave has everything from sushi to upscale Italian food and Kosher restaurants, all of which pair well with the avenue's ambiance.
Check out Third Thursdays
If you're in town between January and April, you don't want to miss
Third Thursdays
. On the third Thursday of every month, 95th Street comes alive with music, live entertainment, and delicious food vendors. It's an impressive block party that the entire family can enjoy, and it's a great way to get out of your "winter rut" and step back into the community — and the sun!
Experience the turtles along the Art Walk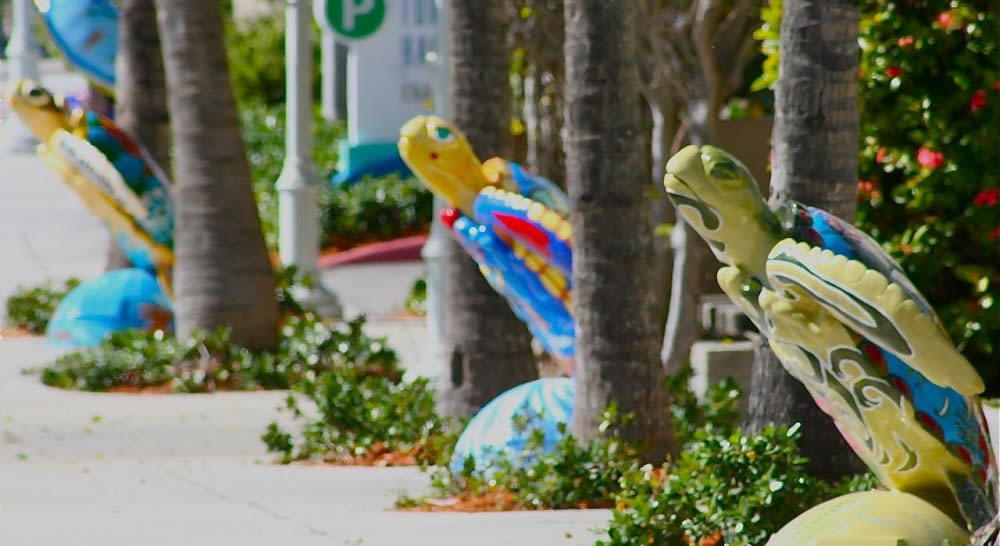 Creativity and nature are both essential aspects to life in Surfside, and now artists have a place to combine the two. On 93rd street, you'll see
Tales of the Surfside Turtle Art Walk
— an impressive sculpture garden intended to bring awareness to nearby nesting and hatching Loggerhead turtle populations. Loggerhead turtles are the most popular breed in Florida and have a safe place to nest, as The Art Walk also functions as an animal sanctuary. Perfect for a beautiful stroll on a warm afternoon, The Art Walk is a can't-miss experience of Surfside.
Head to the beach!

It's hard to escape the beach when you're in Surfside, but when was the last time you embraced a perfect beach day? Pack a cooler, grab the kids, and plan to spend a few hours on Surfside's beautiful coast. The beach is vast, with soft, white sand and plenty of room to roam. The water is such a gorgeous turquoise hue you won't want to close your eyes. Surfside Beach is an accessible, clean option less busy than some of Miami's other beaches. Make the trip to see what all the fuss is about!


If you're interested in Surfside real estate, you'll want to work with an experienced agent who knows this charming area and all it has to offer. Contact
Vanessa Frank
to start looking for a
luxury real estate property
today and make your beach-living dream come true!

*Header image courtesy of Visit the USA