Miami Beach has long been one of the hottest destinations in the world, known for its incredible beaches, top-rated dining, vibrant nightlife, and historic Art Deco architecture. From South of Fifth to Ocean Drive and everything in between, Miami Beach has become more than just a vacation spot for many visitors who now call the city home. Fueled by the pandemic, favorable tax laws, and the ability to work remotely, an influx of domestic buyers have ditched their apartments in the Northeast and upgraded to South Florida homes with expansive outdoor space and sunnier skies year-round–offering a lifestyle you can't get anywhere else.
From the beachy lifestyle to the exciting culture, there's something for everybody here. But if you're serious about moving to Miami Beach, there are some core tips to know before you decide to relocate.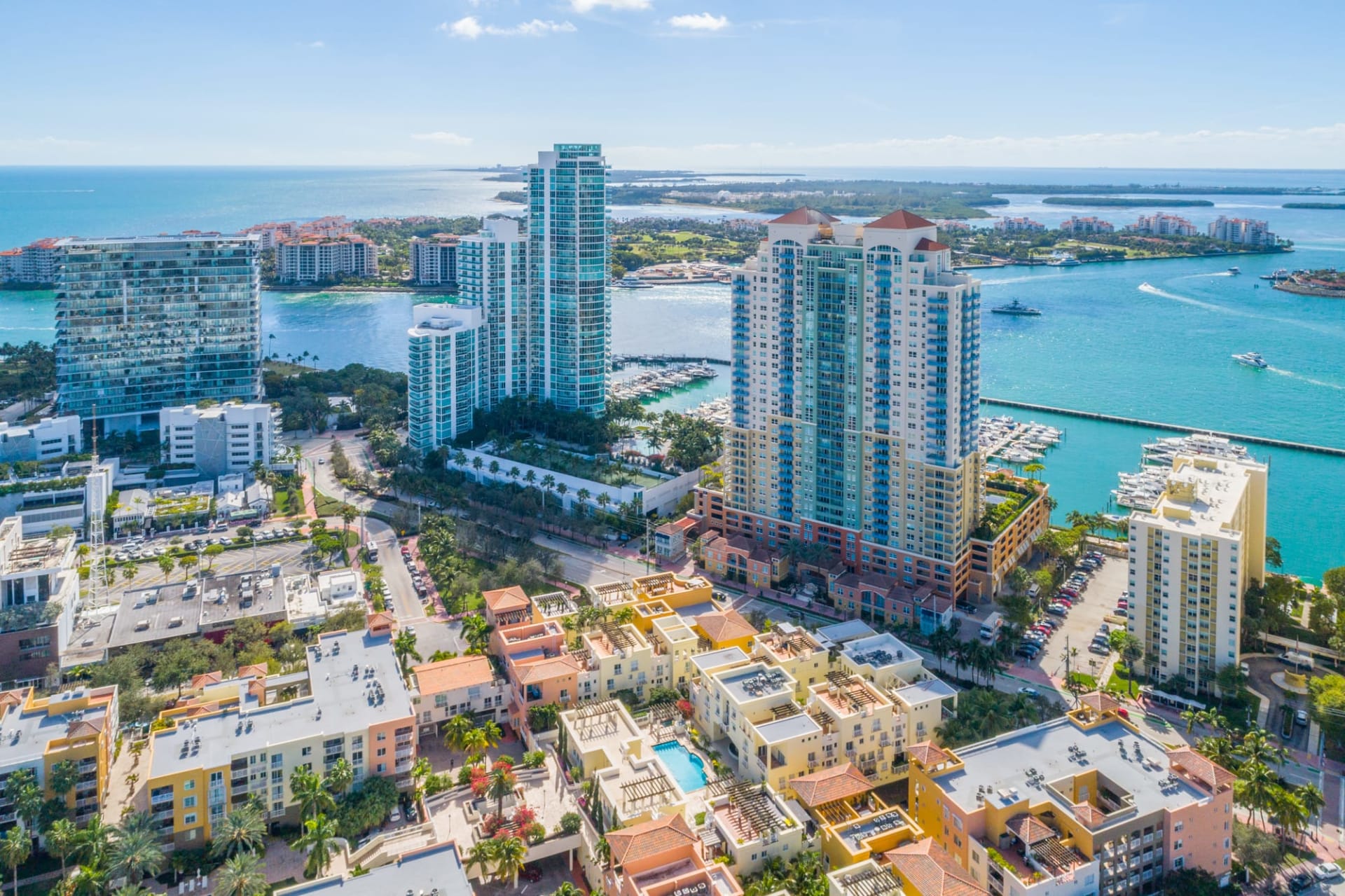 Get to Know the Neighborhood
Do your research before laying down roots in Miami Beach. The area has many distinct neighborhoods, and each of them cater to a different set of lifestyles and personalities.
South Beach is the most well-known area with waterfront real estate, beach clubs, 5-star hotels and your pick of high-end restaurants and nightlife.
SoFi (South of Fifth) is located South of Fifth street and is one of the most affluent areas in Miami Beach, off the coast of the beach, featuring an array of renowned restaurants, cafes, a waterfront park, marina and littered with luxury condo buildings. As a pocket located all the way South on the ocean, you can find many eclectic surfers and skaters cruising down Ocean Drive, and everything in the area is walking distance, with a multitude of dog parks along the way.
Centrally located with accessibility to Downtown Miami, The Design District and Coconut Grove – Sunset Harbor and the Venetian Islands are known for their walkability and are a favorite among those who crave waterfront living and an active lifestyle–with endless things to do including bike across the Venetian, paddleboard along the bay or jump into a yoga class or Barry's Bootcamp. Both neighborhoods offer some of the most beautiful waterfront homes (Sunset Islands is gated while the Venetian Islands are not). Belle Isle across from the iconic Standard Hotel & Spa is ideal if you prefer condo living. Make sure to check out the sprawling views from the pool deck of The Standard Hotel and order the delicious lunch options at Lido Grill.
La Gorce, North Bay Road, Star, Palm and Hibiscus Islands have some of the priciest and most coveted waterfront homes, many lined with their own private docks and expansive views. These areas are known to be very family-oriented, with large homes, parks, a private golf course at La Gorce and schools nearby. While not a "walkable" neighborhood - you are a few minutes drive from dining and entertainment options.
North Beach offers a mixture of more affordable condos and multifamily rentals plus some ultra-luxury condos like Eighty Seven Park and Arte. The relaxed neighborhood runs from 60th Street up to the town of Surfside. The beaches are more private and there is a newly redesigned North Shore Open Space Park with a boardwalk. Isle of Normandy is a great neighborhood for young families and golf aficionados. If you want an oceanfront single-family home, the ultra-exclusive Altos Del Mar is the only Miami Beach neighborhood with homes (only 12) directly on the sand. You're also minutes from Bal Harbor Shops, one of the most recognized luxury fashion destinations in the world.
Be Prepared to Close
According to a ONE Sotheby's International Realty Market Report, inventory is down more than 50% since January, underscoring the degree to which buyer demand has outweighed new listings coming to the market. The real estate boom has dwindled inventory and pushed prices up–which means when a properly priced listing comes to market, it goes fast.
If you are planning to purchase a few months from now, hold off on your home search because what you look at now will likely be gone by the time you are ready to buy/rent. If you're ready now, be prepared to make a decision quickly, with either a cash offer or pre-approved financing and fast closing. Multiple-offer situations and bidding wars have become more common due to the inventory shortage, and these will help strengthen your offer. Working with an experienced realtor who knows the areas, is tapped into off market listings, and moves fast to get you the best offers and deals out there is also essential.
Know Rental Rules
With remote work becoming the new normal and more people tapping into home sharing, short-term rentals have become a big draw for buyers and investors in Miami Beach. If you're looking to move part time and want to rent your Miami Beach pad out to monetize your unit while you're out of town– know the rules. Review the county, city and building-specific guidelines as there could be restrictions and taxes associated with short-term rentals. The City of Miami Beach Land Development Regulations don't allow rentals for less than six months in single-family homes and other multifamily residential buildings unless the building is authorized. You can check specific building allowances here. There are a number of condos that cater to a flexible lifestyle and are built and zoned to allow for short term rentals and home sharing. Reach out and I can guide you!
If you are interested in homes or condos for sale in Miami Beach, Surfside, Bal Harbor, or Sunny Isles, contact Vanessa Frank for more information.